DEC PDP-11/35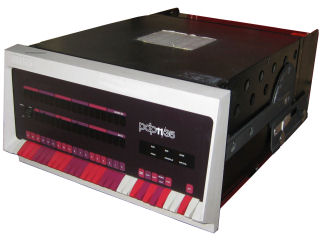 I was lucky enough to be able to pick up this PDP-11/35 system with two H960 racks, some RK05 drives and a box full of documentation from a fellow collector in the Netherlands. Although the original configuration only included 32 Kbytes of core memory, the machine has since been maxed out to the full 124K words (256K bytes, minus the I/O area) of MOS memory. Parts of the system are stamped with 1973 production dates and, remarkably, this system was still in active service testing telephone exchange equipment up until early 2008.
The 11/35 is the OEM version of the 11/40. The processor (the KD11-A) is common both, but the '35 shipped as a bare CPU in a 10.5" BA11 chassis, as opposed to with the peripherals and larger 21"-high chassis that came with the '40. Being an older system, in which even the processor is implemented on several separate boards, there were plenty of lovely old modules in the case:
| | | | |
| --- | --- | --- | --- |
| DEC | M7231 | KD11-A | Processor data paths module |
| DEC | M7232 | KD11-A | Processor micro word module |
| DEC | M7233 | KD11-A | Processor Instruction Register (IR) decode module |
| DEC | M7234 | KD11-A | Processor timing module |
| DEC | M7235 | KD11-A | Processor status module |
| DEC | M7236 | KT11-D | Memory management module (MMU) |
| DEC | M7237 | KJ11-A | Stack limit register |
| DEC | M7891-DB | MS11-LD | 256 Kbyte MOS memory card |
| DEC | M7800 | DL11-D | Asynchronous transmitter/receiver (110-2400 baud) |
These were spread over a 9-slot and 4-slot backplane, along with a Unibus jumper and several grant continuity cards. An extra 4-slot backplane housed a complete RK11 interface (for the RK05 drives):
| | | | |
| --- | --- | --- | --- |
| DEC | M7254 | RK11-D | RK05 status control module |
| DEC | M7255 | RK11-D | RK05 disk control module |
| DEC | M7256 | RK11-D | RK05 registers module (data path) |
| DEC | M7257 | RK11-D | RK05 bus control module |
The processor box itself, along with the RK05s arrived in good condition; the previous custodian assured me everything had been working as recently as a couple of months ago. You can however never be too careful with equipment of this vintage and you never know what might have worked itself loose in transit. I'll therefore be checking everything over thoroughly before powering this beast up.
Once the processor and RK05 drives are up and running I'm planning to hook the system up to the TE16 tape drive I have waiting for it in storage. I'd also like to try out some old Unix versions (5 and 6 should work fine) although I'll need to source a KW11-L line time clock for that.
In the hope that it will be useful to other entusiasts, and also for my own reference, I've been documenting my progress with this machine. I'm also trying to maintain a to-do list to keep track of things that need to be sorted.