IBM Aptiva

| | |
| --- | --- |
| Model: | IBM Aptiva 2176C32 |
| In service since: | August 2000 |
| OS: | Red Hat Linux 7.3 |
| Function: | Internet Gateway/Firewall |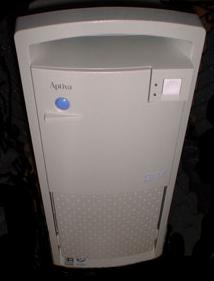 166 Mhz Intel Pentium MMX CPU
64 Mb RAM
2x 20 Gb 7200 RPM Samsung ATA-100 Hard Disks
10 Mbps 3com 3c509b ISA NIC
This seems to be quite a stable little box, although one of the original Western Digital Caviar hard disks was getting flaky around the higher cylinders.
The motherboard has one bus socket, into which plugs a shaky daughterboard sporting all the PCI/ISA slots.
Fans are fitted to both the PSU and the front of the chassis - neither of which are particularly quiet about it.
Perplexing case - two screws on the top of the front of the box hold the chassis in place, which slides out the back of the case.
'Protective' sliding front panel cover.
Dodgy spring mechanism removed from sliding front cover.